E-girls, some of you may dream of them, others may despise them. One thing is certain though, some of them are the most beautiful women the internet has to offer. Here's a list of the top 10 cute e-girls that you can watch on Twitch, Instagram or other social media. Enjoy!
1. Belle Delphine
Yes, I know, I know, wow, what a surprise, the most famous cute e-girl for being a cute e-girl is at the top of this list, but who doesn't love a classic.
History
From her origins on Tik-Tok with the hit or miss dance, to her most recent antics making an OnlyFans and a… musical career (what?!). You could call her the progenitor of the modern day e-girl style, and hey, who can blame her, she's cute as hell.
Past situations
In the past there have been numerous situations which have given her notoriety in both the positive and negative sense. There are some you may have heard of such as when she sold bath water and it could give you herpes as well as the creation of an account on an adult website and $2000 Patreon tier, which all were memed to high hell.
Additionally, there's a pretty large rumor you may have not heard of. Back in the day, Belle Delphine used to sell her "explicit images" when she was seventeen; however, they weren't actually her at the time and were in fact Indigo White, a prominent cough cough content creator on an adult website.
She also took a large year long hiatus because she broke her arm, although I've heard from some of my friends in the same industry as her that she's now married, but hey, to each their own.
Style / Type
Belle Delphine style is that of a soft and cutesy nature, trying to be both innocent and sexual at the same time, she normally enjoys dressing up in bright pink colours and has an ahegao face in basically every picture.
2. Pokimane
As the queen of Twitch, it's no surprise that she ended up on this list, and as a tier 3 sub btw, there's no doubt that she doesn't belong on this list.
History
Pokimane started streaming on Twitch in 2013, which is so long ago it was called JustinTV and not Twitch. Before she grew large enough to see it as a financially viable option, she'd stream alongside working for her masters in chemical engineering, and subsequently decided to focus on streaming Full-time in 2017.
As displayed by her previous academic achievements, she's extremely intelligent, and with her rapid and consistent growth, there's no wonder other Twitch streamers call her the business woman of Twitch. She is also part of OfflineTV, a streaming/YouTube group, with notable members such as Lilypichu and Disguised Toast, as well as new member Michael Reeves.
Past Controversies
As a very large social media influencer, Pokimane has of course been involved in situations regarding drama between different creators. The first controversy which put her in hot water was her arguments with keemstar and the subsequent actions she took afterwards.
After all this drama had taken place, Pokimane started copy striking some people's videos, albeit in an unfair manner as a way of taking down videos which talked about the drama which had just occurred with keemstar, with large creators such as Felix Kjellberg making a video about it.
The most recent controversy was the 25 million dollar Twitch lawsuit by Eric Estavello, although i hardly think his case would be able to stand in court, which blames her as well as other female streamers on the website for his own issues.
2
Style / Type
Pokimane's style normally involves palettes of soft colors and the vibe she gives off is that of the girl next door. She normally wears croptops, trackie bottoms to give off a casual aesthetic and down to earth vibe.
3
3. Pink_Sparkles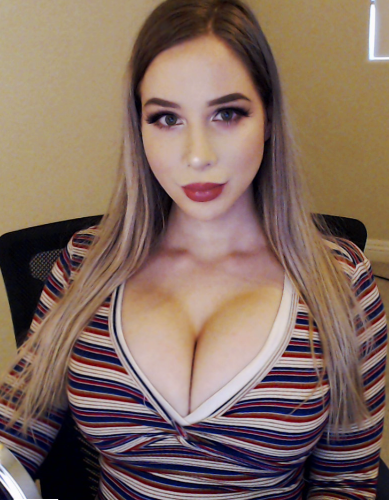 Although she has moved from Twitch to more *cough cough* mature forms of work, she still is a cute e-girl and also Asmongold's girlfriend, and although people may think she has personalitiddies instead of personality, she was actually really entertaining when she did stream.
History
Pink_Sparkles has been streaming for a long time, amassing a grand total of 850000 followers on Twitch before deciding to move onto only fans. She would normally stream games such as Fortnite and Minecraft, as well as just chatting and doing irl things. She was part of one of Twitch's most unique couples for 1 and a half years, being together with WoW streamer Asmongold before unfortunately breaking up with him at the end of 2019.
Past Drama
Due to Pink_Sparkles more closed nature, she didn't really interact much with the rest of her Twitch peers, at least enough for drama to be created. The only drama related situation to happen in their past was when Asmongold and her broke up together after both being very sad due to the relationship. Fortunately this wasn't due to anything negative but just life itself and the 2 have remained friends to this day with no bad blood between them.
Style & Type
Pink Sparkles on her Instagram dresses to impress. She either wears lingerie, bikinis, crop tops, or full on dresses. She normally tends to lean towards wearing clothes with light colors such as turquoise or silver.
4. Amouranth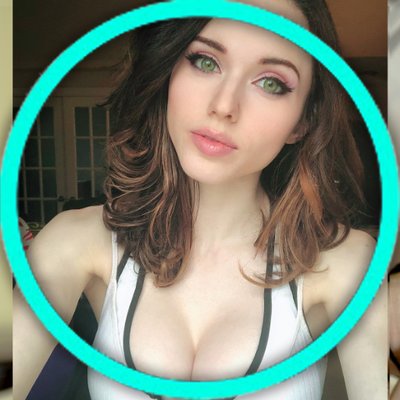 Look, I know Amouranth is one of the 2 notorious girls on Twitch, but with her being a lot less notorious and a lot more cute, I believe that she has a right to be on this list. She also does some really good and high quality cosplays, so i can't fault her for that.
History
Amouranth started Twitch back in 2016, and is a streamer who doesn't really stream games, apart from Just Dance. She has amassed over 1.6 million Twitch, having thousands of viewers during every stream and normally streams in the just chatting, ASMR and creative section of the website. She also has a podcast with SweetAnita, Maya and StellaChuu.
Past controversies
Now, like I previously said Amouranth is one of the notorious female streamers on Twitch, due to people saying that Twitch gives her bias over other creators, which is in itself kinda true. Due to her being not quite the sharpest tool in the shed, she normally streams where she isn't supposed to be and tries to lie about it, although she is blatantly streaming.
This couldn't be more apparent when Amouranth got kicked out of a gym for streaming in a gym and other people being uncomfortable as they were streamed to thousands of people without their consent. The manager came over and told her to either stop streaming, but she stated that she was on video call with her personal trainer, which the manager knew wasn't true because he was looking at her stream.
The other controversies surrounding her are mainly because she gets extremely light punishments by Twitch for what she does.
Style & Type
Amouranth is a professional cosplayer, and an extremely good one. Due to her large following she has enough funds to pay for top quality impersonations of the real thing. However although she tries to be faithful with the cosplay, she also tries to be as scantily clad as possible, as she is always trying to promote her premium Snapchat.
5. QTCinderella
A Fan favorite on the Rajjchelor as well as an overall lovable, yet mean bitch, QTCinderella more than deserves to be here.
History
Although she only recently started streaming back in 2018, she has amassed a following extremely quickly, having currently over 100000 followers on Twitch currently. Although she streams concurrently, she doesn't see Twitch as a stable job and therefore also works at her catering job, having previously gone to culinary school. She normally streams minecraft, as well as singing and cooking, but her main notoriety is from being friends with Ludwig Ahgren(the tax evader himself) as well as frequently going on shows such as the Rajj Royal as well as the Rajjechelor, albeit she picks hosts every time.
Past Drama
Since she hasn't been on the platform for too long, QTCinderella hasn't been included in that much drama. The only case which is at all controversial is when QT slammed Pokimane for her actions during the World Cup, where 2 streamers would battle it out, and Pokimane said that she would pick purely based on looks, which QTCinderella rightfully thought was toxic, especially if she is the female face of the platform.
Style & Type
When streaming and posting, she gives of the one of the boys vibe, someone who is able  to chat shit, but then receive shit back without being hurt by it. She dresses like a basic white girl, which although isn't unique drastically contrasts to the how she acts.
5
6. KaceyTron
Once again, here's another fan favorite from the Rajchelor and Rajj Royale. Known for being high as fuck on every stream, as well as always creating content during the stream. She's also known for her extremely edgy humor, which has put her in hot water numerous time over the years.
History
Having started in Twitch back in 2012, she is once again another veteran of the site. She amassed her popularity while playing games like H1Z1 back in the day and people came to love her for her anti pg humor and not caring attitude.
Currently she has amassed over 500.000 followers and mainly spends her time doing just chatting streams and playing Overwatch, as well as frequently appearing on the Rajjchelor.
Past Controversies
As someone who says extremely dark jokes for the sake of humour, many people have been offended by what Kaceytron has said in the past. The most recent of which is when she made quite a few insensitive remarks and jokes about coronavirus, causing her to be suspended from the website. She was unbanned after 7 days.
Style
Kaceytron's style is like a more funny version of Amy Schumer when she had just started comedy, she says extremely edgy things for the sake of humour, but hey people like it. She normally wears black clothing and is high 24/7, so if you are looking for a stoner cute e-girl to simp over, she's got you covered.
6
7. Jessica Nigri
As the queen of cosplay, Jessica deserved to be on this list. She has been prominent on the internet almost as long as internet personalities have been a thing and is always seen at the top in all cosplay lists, so who can blame me for putting her here.
History
Jessica Nigri has had an internet following since 2009, when her Sexy Pikachu cosplay which she wore to Sandiago Comic-con. She has been hired by many extremely large companies to promote games, and was hired as a spokesmodel by Warner Bros Gamers, she has also voices Cinder Fall in RWBY and has a bunch of connections with Rooster Teeth.
Style & Type
As another cosplayer on this list, and one who has a nsfw Patreon, its another case of extremely scantily clad cosplays. If you are looking for humanised, sexy versions of characters such as Toom Nook, she's got you covered there. If you are also looking for sexy versions of characters of you childhood, she has strange cosplays of characters such as Hermoine and Sonic.
7
8. OMGItsFireFoxx
OMGItsFireFoxx is an old YouTuber and Twitch streamer who also streamed before Twitch.tv was called Twitch.tv. As an og minecraft YouTuber and streamer, which is my childhood, as well as a prominent cute streamer, there's no wonder why she appears on this list.
History
OMGItsfirefoxx started streaming and creating content in 2013. She became popular when she played in the mianite series with other YouTubers like Jericho, CaptainSparkles and Syndicate and worked in the retail sector until she quit in 2014 to focus on streaming full time. In 2015, she was the most followed female streamer on Twitch and hosted the SXSW Gaming Awards in 2018. She currently has over 750.000 followers on Twitch and became popular streaming Counter Strike Global Offensive, Minecraft and just chatting.
Past Controversies
As someone who once again doesn't engage with drama nowadays, she hasn't had many controversies surrounding her. The only notable occurrence was in 2018, where she was refusing to pay her lawyers the money that she had promised.
Style & Type
OMGItsFirefoxx look is a combination of 2 styles, tomboy and french. This is shown by her love love the old fashioned black and white striped shirt, as well as her short black hair, as well as her love for racing large cars fast and love of wearing dress shirts. If you enjoy that kind of style, this is the girl for you.
9. Runabyte
Unlike most of the people on this list, Runabyte isn't a content creator or a Twitch streamer but mainly focuses on her endeavours on instagram as well as websites such as *cough cough* Onlyfans. Hence this will focus more on her style and aesthetic and less on her history, as it isn't really public information.
Style & Type
With her many tattoos and pastel colour choices, she is the physical representation of "big tiddy goth gf.". Her body itself seems like a canvas for art, with her having aesthetically pleasing black tattoos from anime and manga included and not limited to, Berzerk, Tomie by Junji Ito, Jojo's Bizarre adventure and Naruto, as well as from video games such as the Witcher and Persona franchise.
Her hair colour changes often, but it's always a strong or vibrant pastel colour and her clothes are normally black and revealing. To sum her style up, I think it's the epitome of alternative skater girl vibes. I'm not a simp, but i'd definitely simp for this person.
10. Pettraner
Now although she isn't famous, as is quite new, Pettraner is not someone you should sleep on. There's a reason she was the most ordered person on Epal.gg, and that's because of her kind nature and upbeat attitude. (Also because she's a cute e-girl.)
Past Controversies
Recently Pettraner decided to leave Epal, due to working another job, as well as the poor management Epal had displayed during her time with them. Due to the lack of communication between the team and her and the inability to properly communicate with the team, due to them not really caring apart the people who use the site, she parted ways with them in the summer of 2020.
Style & Type
Once again another cosplayer on the list, i mean what can i say, they are the closest I can get to 2D girls. Pettraner normally enjoys doing cosplays from anime and jrpgs since she's a kinda big weeb, so if you are looking for real life anime waifu's to simp over, she's got you covered.
Which cute e-girls do you watch?
You've just checked out a top 10 that was written by Felix. But I'm sure there's others that you might like. Which ones are your favorites? Let us know in the comments 🙂
You might also like our article about Minecraft e-girls.